JEWELLERY SOFTWARE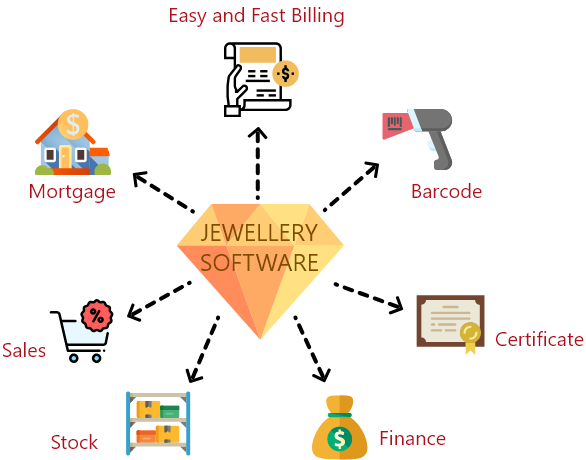 Using Technology For Decades To Glow Your Business
Techasoft is a well-known brand name and is ranked as the top jewellery software development company in the whole country with a team of high profile engineers and many years of experience. Our solutions are unique and highly in demand owing to its various features like rapid operations, easy to use, error-free management etc. We expertise in delivering reliable and efficient software to manage sales, purchase and payments data accurately.
The software work on the daily bases like management of daily sales, payments and receipts. They are known for their exceptional performance and reliability matter. Functional Modules tightly coupled with our jewellery software into a single robust application are –
Accounting reports – day book, accounts, profit and loss, interest calculation, cash and bank book, etc.
Purchase reports – raw materials purchased, finished products purchased, order generating, gold purchased (old and new) etc.
Sales reports – customer order, delivery, sales return, VAT calculation, sales register, order cancellations, etc.
Money lending – received cash, simple and compound interest calculation, loss report etc.
Contractual worker – job receipt, job issue, pending jobs register, worker charges etc.
Aging analysis – debtors and creditors balance, the bill by bill analysis, etc.
Inventory controlling – raw materials stock, old gold stock, soldering stock, unfinished product stock etc.
Our Jewellery software is comprehensive and integrated for an ideal jewellery business to deliver robust outcomes. The various Benefits of our jewellery software for your business are-
Backup and restore facility of the database
Multiple users can use the software at the same time
Data is easily accessible when needed
Cost-effective solution
Complete management of your jewellery business
Great flexibility and customization features
Track of each step from jewellery making to sale
Complete production planning
Highly precise
Excellent performance
Easy and rapid billing
We are the perfect solution for your diamond and jewellery business. TECHASOFT is the jewellery software development company in Bangalore to deliver cost-effective and hassle-free software for manufacturers, wholesalers and retailers. Our latest software includes GST also. Contact us for the free consultation and headstrong progress towards your business.