Unfortunately, you can't just get a degree in content marketing and stop learning about it for the rest of your career. But you likely figured that out as soon as you got your first job. The field changes quite frequently, right from what grabs audiences' attention, to the words that your customers use, and how exactly you need to reach them. This is only compounded when you're forced to deal with new technologies like augmented reality or voice assistants popping up, or social networks continuously changing their algorithms. It takes a conscious and consistent effort to stay up-to-date on digital marketing strategy. Not only do you need to be aware of the latest digital marekting trends, but you need to understand them well enough to evaluate them for your brand.
For example, when a new social network, search engine, content format or app starts trending, it wouldn't be strategic to just jump on the bandwagon. You'll need to understand the trend itself, whether your target customers care about it, and if so, how you can leverage it in your marketing strategy.
Following the top marketing blogs which we have mentioned below not only keeps you informed, but also inspires as you can watch what they do best in their own marketing and content field. So let's take a look at our own favorite marketing blogs and some of the most successful and distinctive strategies behind them.
Top 10 Trending Digital Marketing Blogs You Should Follow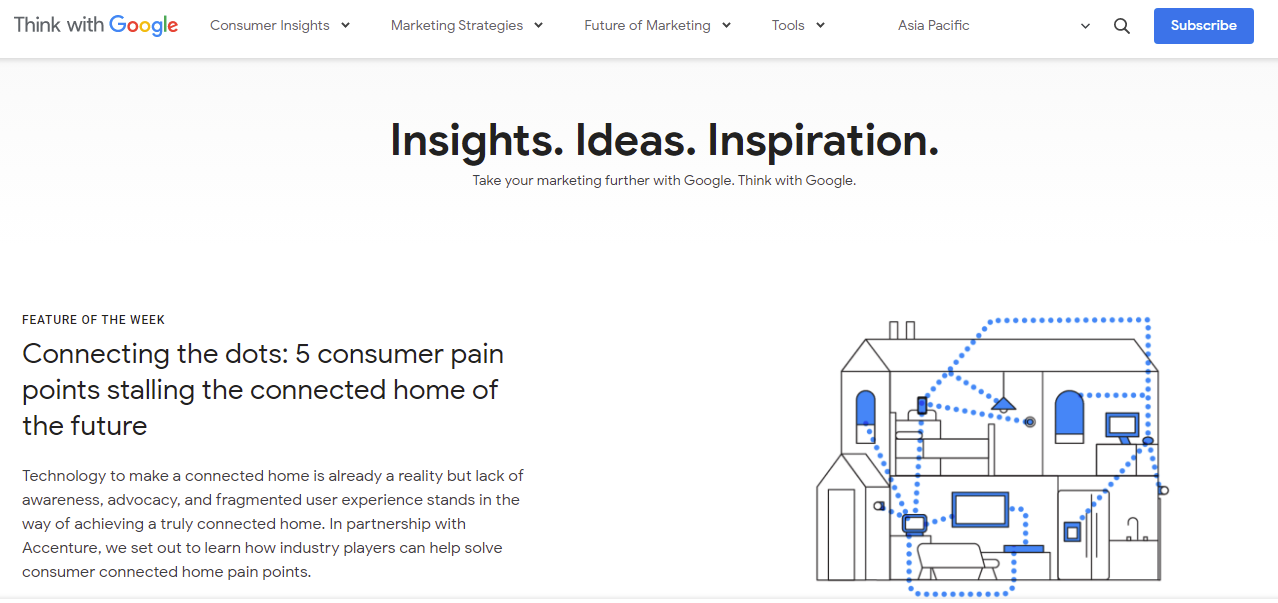 Although it is not an official blog, Think with Google has thought leadership on several advanced level marketing strategies. To name a few, programmatic advertising, measurement and omnichannel are the arenas. This publication features all of the Google's latest and updated thinking in addition to the latest consumer insights on various things.
2. The Moz Blog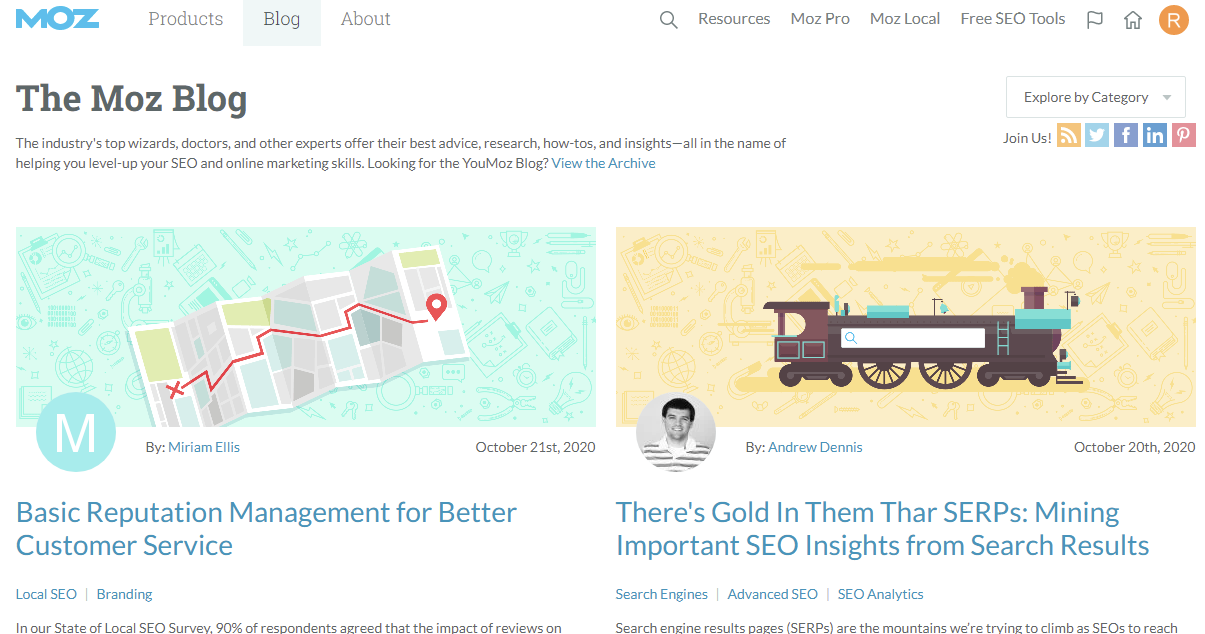 The Moz blog is better known for its SEO toolset. It is very famous as because of the fact that it covers all the topics related to search as well as inbound marketing. The Moz blog gathers finest and experienced industry experts who contribute their knowledge, skill, experiences, advice, insights, strategies and much more on a single platform. It is literally one of the best platforms to get the latest news about online marketing and media world. The website also includes proven insights on earning customers through winning search strategies which tremendously helps its readers a lot.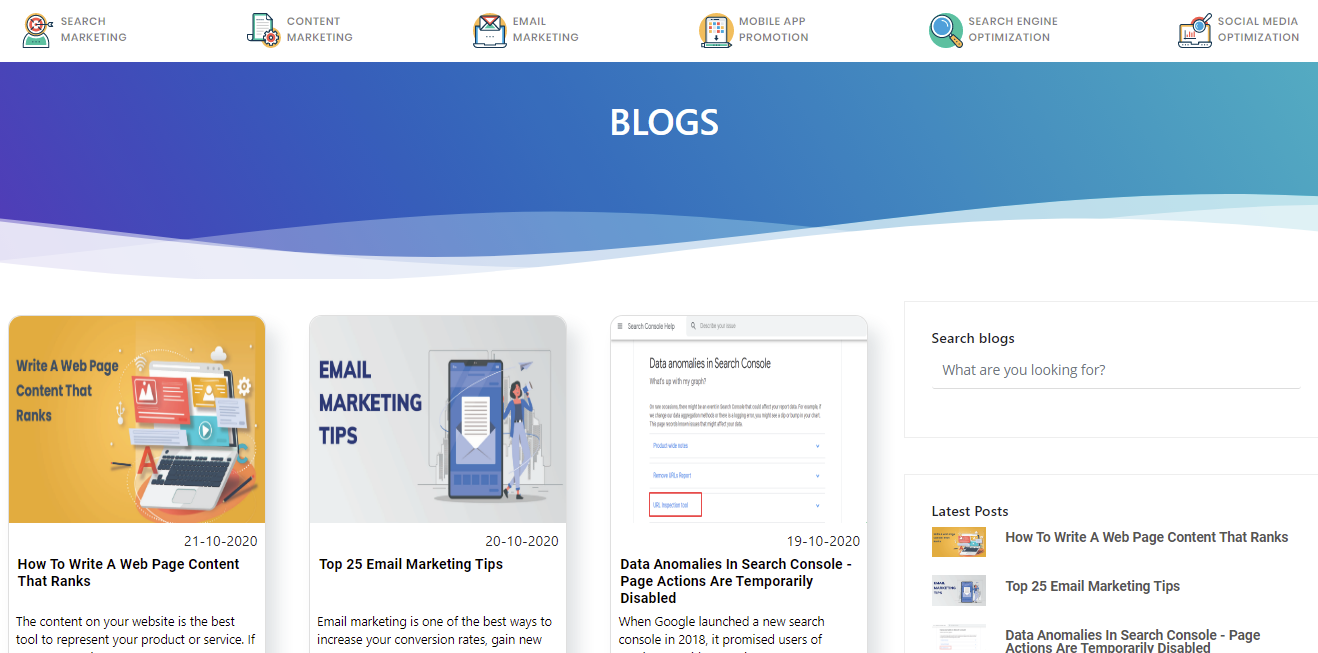 Cure SEO is one of the very popular platforms that provides useful insights on Digital Marketing strategies. Naturally, it is quite hard to think of anyone else who is more qualified than them to provide conversion rate optimization tips and tricks that helps marketers do exactly that. The Cure SEO team indeed offers useful insights on landing page effectiveness as well as lead gen best practices. For marketers out there who are looking to get more from their website visits, this is the perfect place to go.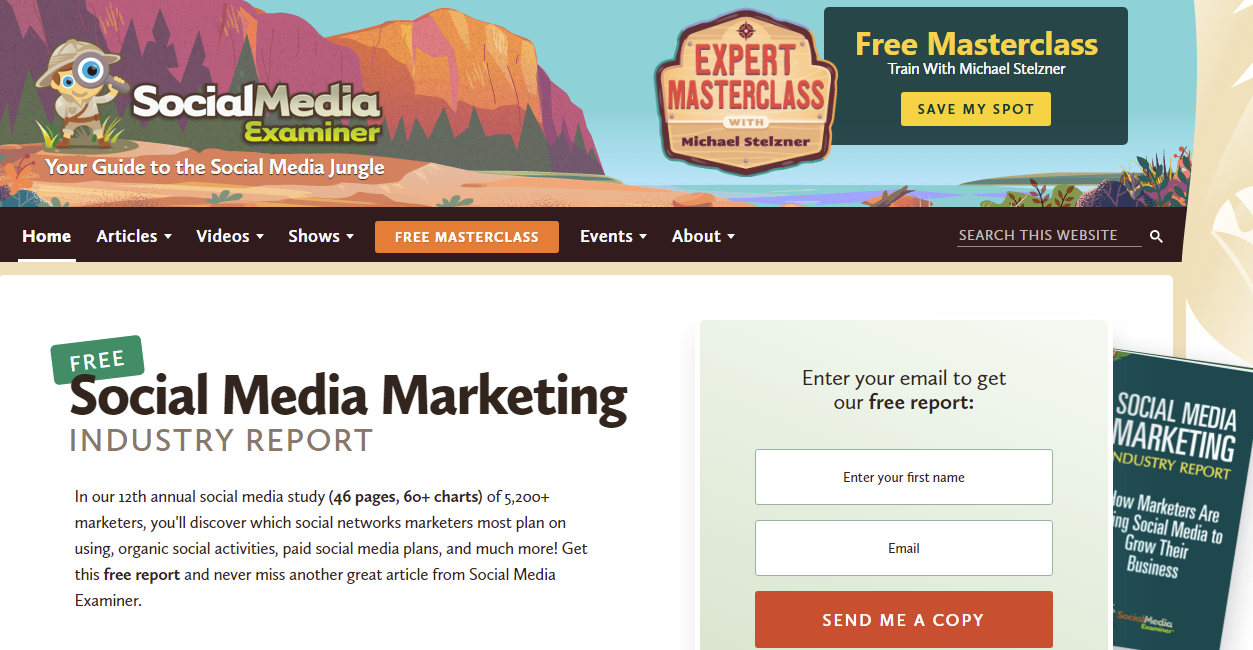 The world of social media landscape seems to change each and every minute. Thankfully, there is the Social Media Examiner weekly news page available for everyone out there for keeping you up to date on all the latest in Facebook marketing, Twitter ads and anything and everything else to do with the jungle that comprises social media world. If you need to read up on the latest and trending algorithm changes, then this blog will definitely have the intel which you need to potentially adjust your marketing skills and strategies or Search Engine Optimization. While the weekly news updates are really a hugely valuable resource, Social Media Examiner too has a number of other engaging, helpful and interesting resources to level up your social media marketing game. With this platform by your side, you are sure to miss no point when it comes to being updated on the knowledge front.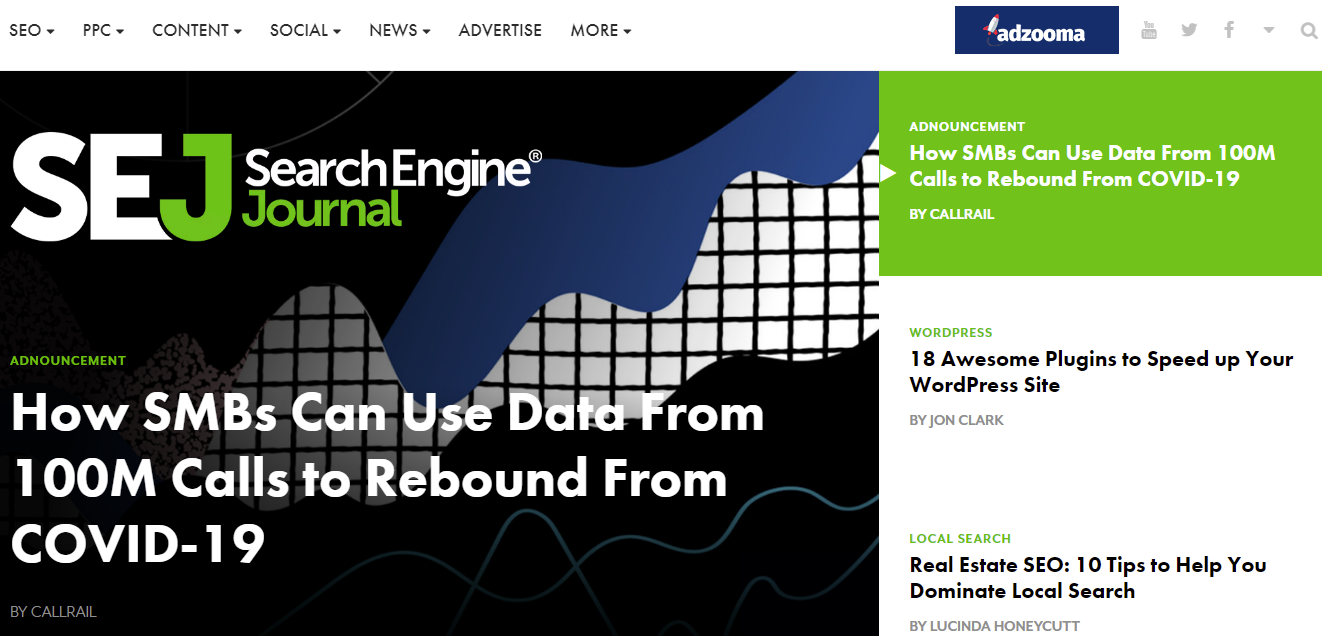 Search Engine Journal is yet another famous blog that is widely seen as the go-to source for the Search Engine Optimization (SEO) news. Search Engine Journal often sources news directly from the Google platform and shares advanced tips and tricks around SEO and PPC (pay per click). If you are looking for the latest SEO algorithm update or in case you want to make sure that your company is following the best practices then Search Engine Journal is one of the first places that our team should definitely check out.
6. Leanplum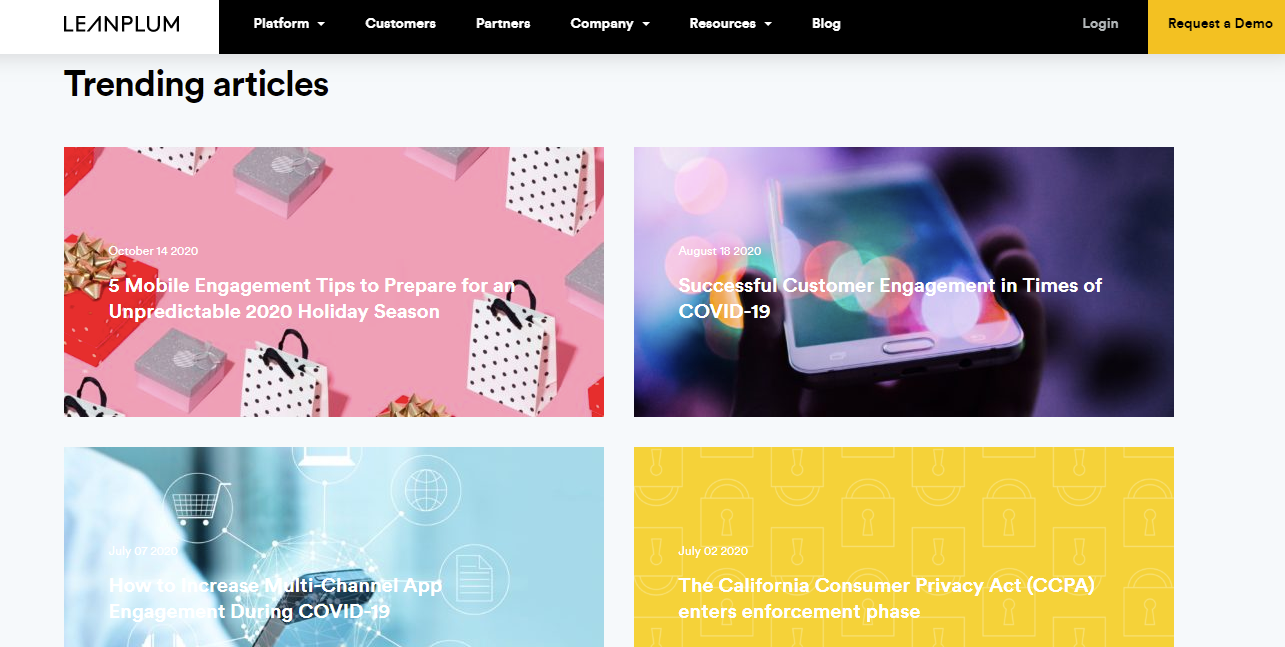 Most digital marketing blogs out there focus on things such as SEO, email marketing, blogging and social media. However, with how much smart phone has taken over digital, it is literally a surprise that there are no more mobile marketing blogs. This makes us appreciate this blog platform of Leanplum all the more, with its exclusive focus on mobile marketing with a dash of email. Leanplum is totally committed to exploring new and latest marketing trends and channels, right from mobile optimization of email and User experience teardowns of top mobile apps, to developing strategies and implementing them for push notifications and emerging marketing tech to pay attention to. So don't forget to check out the unique Digital Marketing Blog Topics that this platform has in store to offer.
7. HubSpot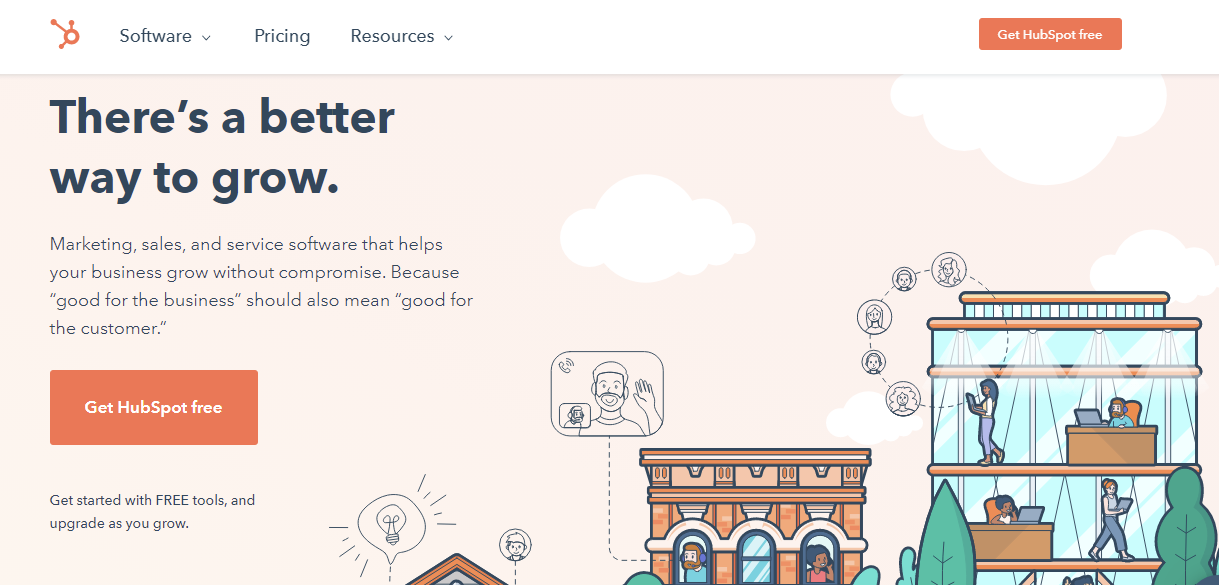 If we would have avoided listing Hubspot in this list then it would have been totally unfair. It would just be unjustified to not mention HubSpot's Digital Marketing blog tips because of the simple fact that so many modern marketers today have taught themselves inbound and digital marketing strategy through HubSpot only. Between their years of daily blog content on all things marketing, hundreds and thousands of downloadable resources, free tips, useful tools and their free marketing courses and certifications, HubSpot practically offers an entire curriculum right from the scratch to the advanced level for their target audience (learners) and customers.
Undoubtedly, there is a flood of marketers who have learned from HubSpot's various resources over the years. Abd they now know that the principles behind the company's "inbound methodology" model has literally become the standard for contemporary marketing. The platform is also an example of marketing automation done right in so many beautiful ways. Do not miss out on checking their blog posts and following them.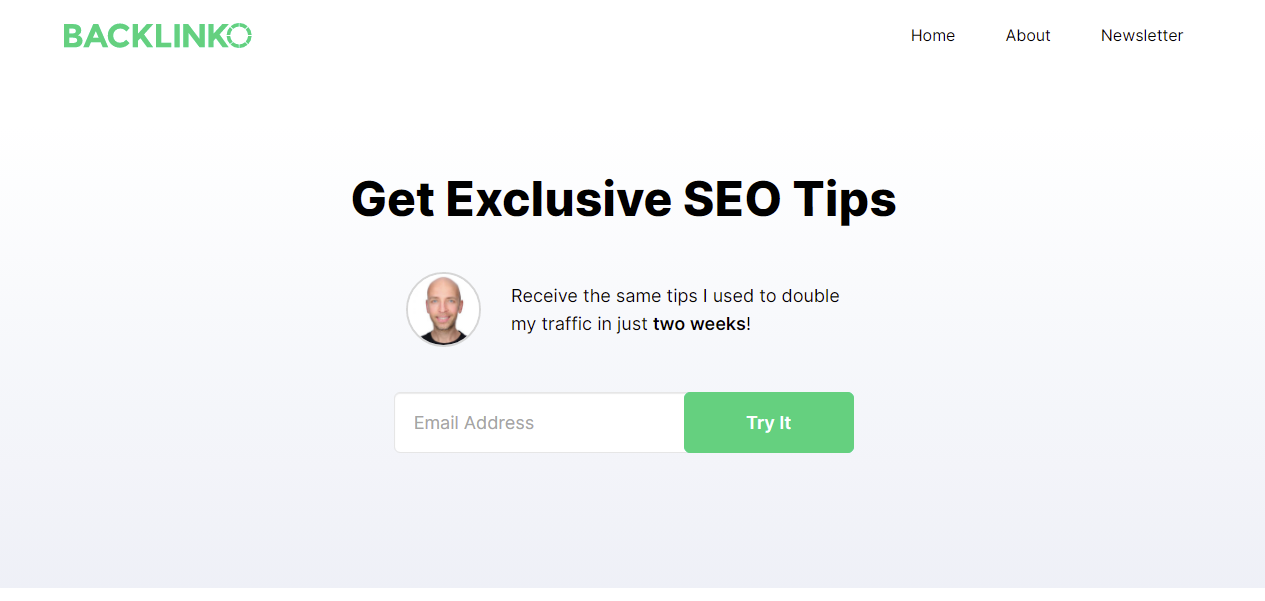 Backlinko is a successful website that was founded by Brian Dean designed to give marketers the strategies and techniques in order to get higher rankings. His blog primarily focuses on Search Engine Optimization and traffic related tips and tricks to help marketers improve organic search traffic for their company's website. In fact, Brian Dean claims to offer new subscribers the same tips which he used to double traffic in just a time period of two weeks. All of his posts contain comprehensive guidelines to help the marketers out there to know everything that they could ever need around a particular topic. His blogs are so detailed yet to the point that it makes readers very interesting to read each and every line of his posts.
9. Neil Patel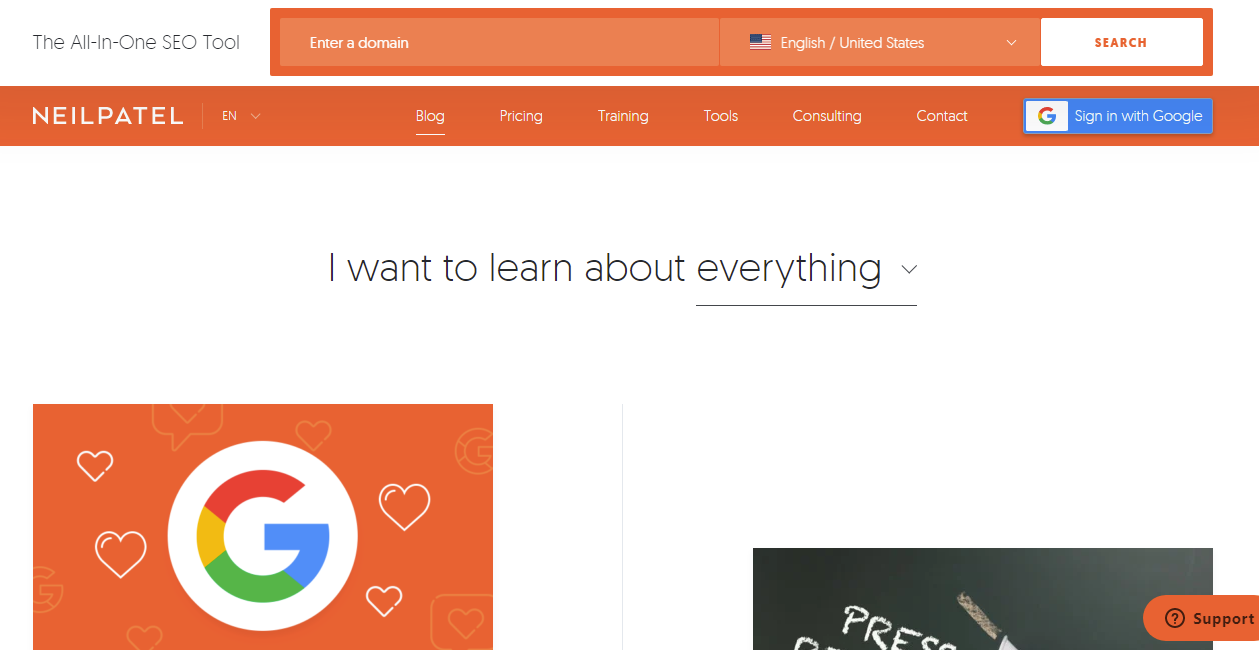 Neil Patel is one of the top succesful, known and inspirational marketers who has built big and successfully running companies of his own such as KISSMetrics and CrazyEgg. Neil Patel has consulted with several Fortune 100 brands and has provided insights that was worked miraculously for the multi national companies and organizations out there. He possesses a level of marketing expertise that is unmatched by most of the industry thinkers. If you are looking for actionable and to the point insights that can help drive results for your marketing program or organization then look no further than Neil Patel's blog. His posts feature engaging and helpful content which are primarily in the format of videos and podcasts. Both of them are very useful regardless of where you are at from a marketing standpoint.
10. Content Marketing Institute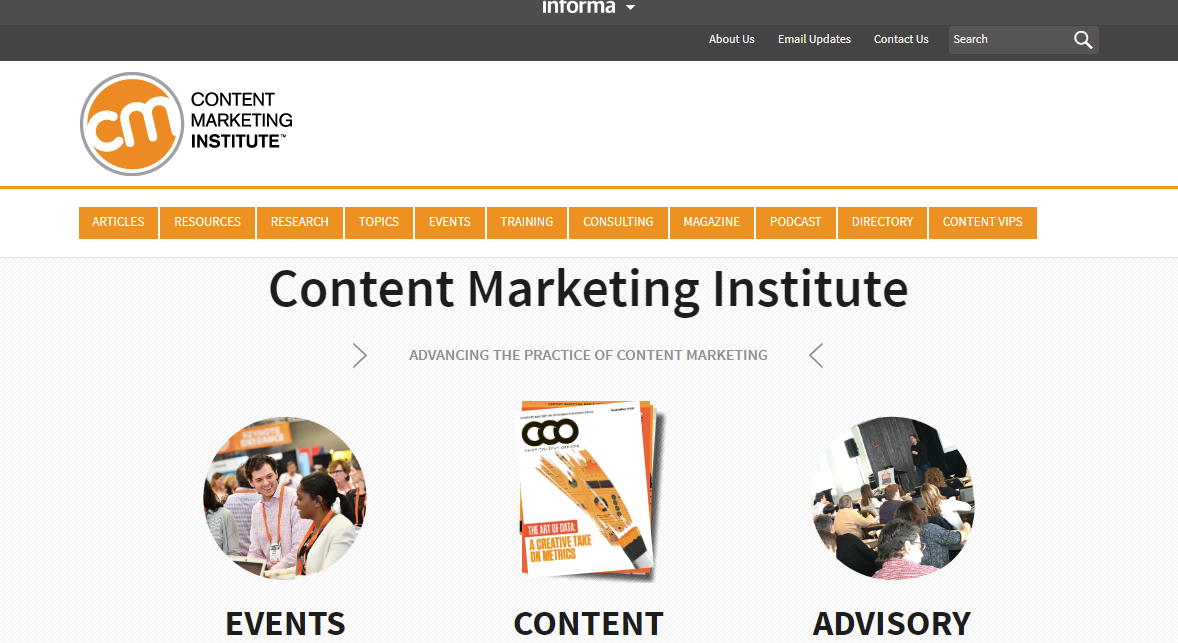 Content Marketing Institute is a publishing powerhouse that takes advantage of a large contributor network. It covers each and every nook and cranny of the content marketing profession and the related fields which it overlaps with. Because of the fact that they cover the content marketing profession so fully and impeccably, they branch out and add variety to their content in ways other than merely changing the topics. Often, Content Marketing Institute lands surprising keynote speakers such as Mark Hamill, Tina Fey and Joseph Gordon-Levitt for its in-person events. Hence, some of the most enlightening and eye opening blog posts on the blog in the recent years have been recaps of their presentations.
Conclusion
These were some of our suggestions about Trending Digital Marketing Blogs for our daily readers. Though there are plenty of other quality and useful marketing resources out there to spice things up every once in a while, or in case you are searching for something specific; these 10 Digital Markets Blogs cover almost everything.
Whether you stick with the above blogs for your future learnings, or go on for a following spree, make sure to start building a portfolio of go-to feeds or a Twitter list of your own favorite marketing resources. Blogs are undoubtedly one of the easiest ways to gain actionable insights as well as to learn consistently. In all of this, there is no excuse for not keeping up especially now that you know who all to start with. We hope this article consisting list of Digital Marketing Blogs was helpful to you. Feel free to ask doubts or get in touch with us for any conversations related to the topic.